How to use regional magnetic observatory base station data to do diurnal correction of survey data
Article Details
Last Updated
3rd of February, 2011
Get the latest version of MagMap2000 from our website. Then go to the www.intermagnet.org website. Click on English, click on Data, click on digital data, click on your general location and then click on the most local observatory site. For instance in Bulgaria, go to Europe then get the PAG for Panagjurishte Bulgaria *vmin.min.zip file and download the data for the survey days in question. Unzip the data. Do not use or download PAG file. We do not support it.

Using the "min" file do the following:

1. Open it as SURFER file in MagMap2000.
2. In the surfer file dialog, check "Use advanced settings" and press "Advanced" button
3. Fill in advanced dialog as the below: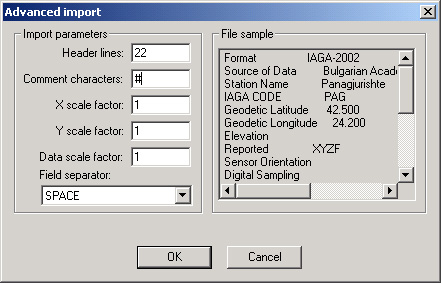 4. Press Ok and fill surfer file dialog as below: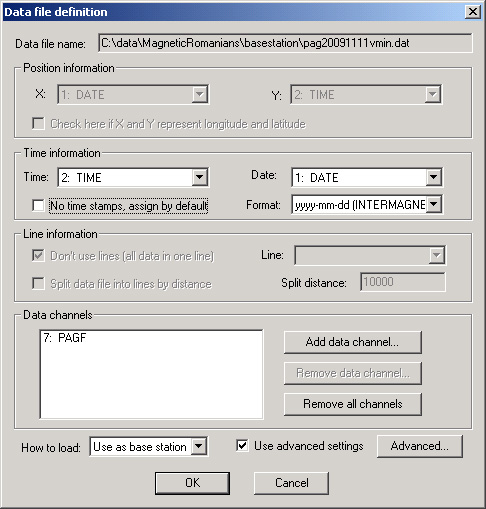 Please make sure ALL fields match this example.

Press "OK" to load the data.

5. Figure out what is the time difference between UTC data (PAG data in UTC time) and your 858 time,
in seconds (1 hour = 3600 sec). In MagMap got to Diurnal setup / Diurnal parameters and enter this offset,
so you base station time matches your 858 time. Bias is added to the base station time.

There is a bug in magmap related to this:

1. If your survey time spans over 2 or more base station files, correction is not possible. In this
case you need to manually join two base station files into one.

As outlined below:

- you start base station
- you start survey
- you stop base station, close its file and start new base station file.
- you stop your survey.

Case below works regarding of number of surveys and base station files:

- start base station
- start survey
- stop survey
- stop base station

Repeat as many times as you need. All data could be loaded at once.
Inspect the data and perform appropriate corrections and Export to create the dirunally corrected dataset.
Visitor Comments
No visitor comments posted. Post a comment
Related Articles
No related articles were found.
Attachments
No attachments were found.